Summer vacation 2022 between:
5/10 - 30/8, 6th Tamuz to 3th Ellul
10 reasons to enjoy a First ClassVacation
:חופשת קיץ 2022 בין התאריכים
יום שלישי ו' תמוז 5.7 יום שלישי ג' אלול 30.8
As always, we at Levtravel go all the way and choose the best experiences, so that your pleasures will always exceed your dreams.
But this time we surprised even ourselves!
Arosa, a Swiss vacation town, includes top-notch hotels who draw tourists that seek an exclusive, pampering stay, and a wild, breathtaking view. Arosa is located 1800 Meters above sea level. The cable railway in the center of town leads to the summit .of the Visehorn, 2700 meters high
The road to Arosa winds through an icredibly beautiful view, but the easier way is to take the special train from Chur to the town center. This railway is a tourist attraction in itself, because of its steep rail and the fascinating view from its huge windows
The Kulm hotel belongs to a known Swiss chain of hotel that dates back to 1882 when the first guesthouse was built in Arosa. Since then it developed into one the most popular high-end hotels in Switzerland
The hotel contains 119 rooms in different sizes and classes. All face the breathtaking wild view. Some rooms have large verandas looking over a panoramic view, while some have huge panoramic windows that bring the view into the room.
It does not matter where you choose to spend every moment of your vacation: in the lobby, dining room, the grass lawns, spa or your room. Be sure you will be excited by the magical view overlooking the Grisons Alps.
As in all our getaways, our main feature is the culinary side. We focus on delicious chef meals in various styles and flavors, rich and plentiful choices in every meal. Between meals you may pamper yourself in the coffee and cake side bar, open 24 hours a day.
On Shabbos we will serve full board. You will also enjoy our famous lavish Kiddush as is our tradition in LevTravel by the Lefkowitzז family. The Shabbos atmosphere, the songs, the davening and the activities will enrich your Shabbos and will give long hours of enjoyment and fun.
Over 1,200 meters are waiting for you at the health center and spa. A swimming pool with a waterfall, a Jacuzzi, massage, a natural kid's pool, a sound and aroma cave, a tanning studio, spa saloon, sauna, seanarium, steam bath, fog path, ice fountain, relaxation room and more…
You won't be able to stop admiring and beauty and aesthetic touch in every corner. The spa is located facing the untouched magical alpine view. The pure lines of the architecture and the steel pool with its turquoise waters resembling a mountainside pond, create a special energetic combination that recharges body and soul. Here you can enjoy high class spa treatments and the best massages (at extra charge)
The hotel has two children clubs. One for young children and one for teenagers. Both have a huge selection of games of all kinds for all ages. We also have a private bowling room for our guests.
Arosa has hundreds of walkways that fit all ages, and plenty of nature walks, such as rivers and ponds, waterfalls, and unending mountaintops. Arosa itself has two cable railways that are active through summer and are included in the guest card that you can get for a small sum. There is also public transportation all through daytime, so it's possible and recommended to tour without a private car.
We can travel around Obersi lake in the center of the town, across the train station of Arosa where we can feel the pulse of the quiet Ski town. Around the lake we will find attractions for the whole family. Pedal boats, a rope park, horse driven carriages and more…
Switzerland is considered a heaven for bike riders and it has many bike roads – from quiet level paths that are suited for any rider to challenging mountain tracks for trained riders used to serious biking. The roads pass picturesque villages and towns, towers, springs and waterfalls, all in convenient marked bicycle tracks.
The grand canyon of Switzerland
The Foderheine (a branch of the great Rheine river), carves its way through the chalky mountains. Beautiful! The river is recommended for rafting in many different levels.
Mountain slides in Chur & Walden
The longest mountain slides in Switzerland! The track is over 3 km long! Over 31 turns and twists. 480 meters height difference! We climb by cable rail to 1800 meters height, and then switch to sleds. Enjoy the track, the view around you. We promise you an unforgettable experience!
If you thought rope parks are for children- you should visit the Arosa Park and more parks in the area. There you will enjoy challenging tracks running between the trees high up in the air, rope bridges, omega swings, bungee jumping and height jumping, rope walking in the heights and through the trees in high speed. Different levels and heights. Each will give you a boost of adrenalin.
The view will make you miss a heartbeat. The diving is conducted from an airplane the 13,000 ft. experienced instructors will guide you the dive. Over the amazing alpine view, you leave the plane and go on your way. All you need to do is to open your eyes wide, connect to scenes and enjoy an unforgettable experience.
Arosa is known for its Grizzly bears that used to inhabit the mountain and are the village symbol. Today the bears can be found in the middle station of the cable railway to Visehorn. A memory of the bears roaming the mountains years ago. In the summer, there is a bear show every day at noon.
An upscale vacation town the Angadine valley in Switzerland. St. Moritz is considered by many the most famous and oldest winter sport locations. Thanks to its geographical location, the residents of St. Moritz enjoy more than 300 sunny days a year.
The capital of Ghrowbinden canton, Chur is located on the shores of Rheine River. It is 120 km away from Zurich. The close proximity to the mountain paths of Lukmanierpass, San berandino and Shpelighen turn it into a welldeveloped industrial area and a center local wine making.
The canyoning in viamala goes through a unique path, framed by peaks up to 300 meters high. Here one of most exciting canyoning experiences becomes real. Most of it includes jumping into water without ropes.
            * In June and July departures from Wednesday to Wednesday
                                                 * in August departures from Tuesday to Tuesday
                   * In August, a travel package is limited to a minimum of 30 people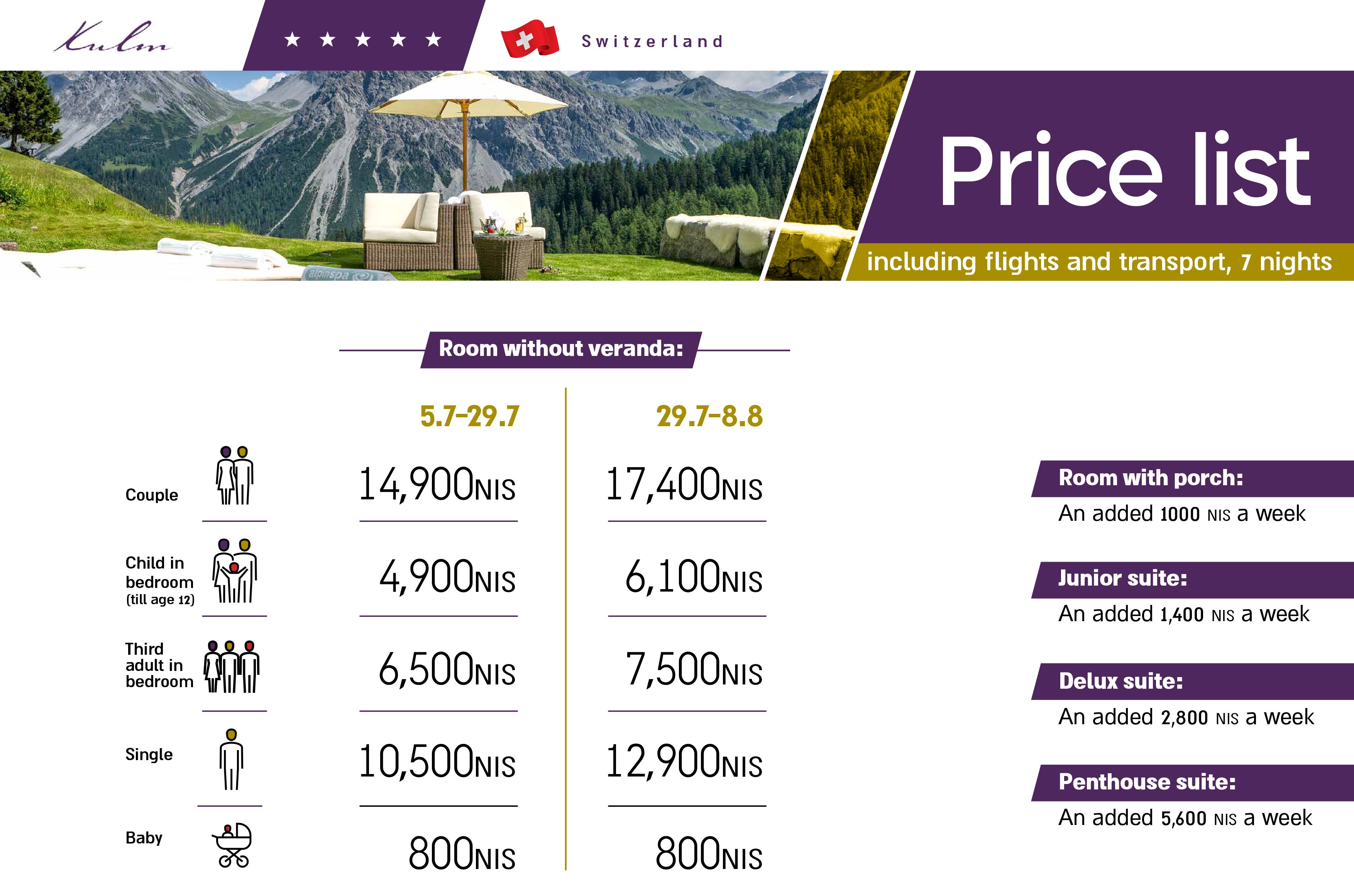 We will be happy to answer any question,
Or fill out this form and we will contact you as soon as possible!